Alissa Winner, DNP, APRN, AGACNP-BC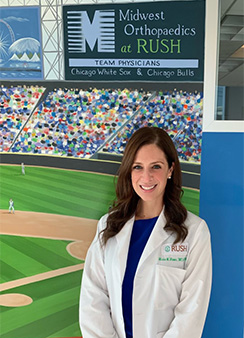 Originally from the Midwest, Alissa completed her undergraduate education at the University of South Carolina in Columbia, SC, where she earned a Bachelor of Science in Nursing (BSN). As a new graduate registered nurse, Alissa started her career working as a critical care nurse in the Medical Intensive Care Unit (MICU) at Northwestern Memorial Hospital where she gained a great deal of experience caring for patients with a wide variety of acute and chronic medical conditions. In March 2015, Alissa started graduate school at Rush University working toward her Doctor of Nursing Practice (DNP) degree while also beginning her career in orthopedic surgery on the inpatient orthopedic floor at Rush University Medical Center. Alissa began working with Dr. Gerlinger as a registered nurse in April 2016. In December 2018, she graduated from Rush University with her Doctor of Nursing Practice (DNP) as an Adult-Gerontology Acute Care Nurse Practitioner. She currently works as a nurse practitioner. In 2019, she completed the Registered Nurse First Assist (RNFA) program allowing her to assist in surgery.
Alissa has a strong passion for nursing and advancing her education and knowledge in the field. Alissa loves her position as an orthopedic clinician and truly enjoys establishing and building relationships with patients during their joint replacement journey as she works with them throughout the process. As a nurse practitioner, Alissa sees patients in clinic for joint replacement consultations, injections, follow-up visits, and postoperative appointments. She also assists Dr. Gerlinger in the operating room during surgery.
In her spare time, Alissa enjoys traveling, playing tennis, running, and spending time with family and friends. She also loves watching sports, especially college football - Go Gamecocks!
Physician: Tad Gerlinger, MD
Education:
University of South Carolina, Columbia SC - Bachelor of Science in Nursing (BSN), 2012
Rush University, Chicago, IL - Doctor of Nursing Practice, Adult-Gerontology Acute Care Nurse Practitioner (DNP-AGACNP), 2018
Professional Certifications and Licenses:
Advanced Practice Nurse, State of Illinois
Registered Nurse, State of Illinois
Registered Nurse First Assist (RNFA)