Alissa Winner, DNP, APRN, AGACNP-BC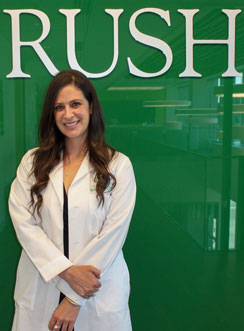 Originally from the Midwest, Alissa completed her undergraduate education at the University of South Carolina in Columbia, SC, where she earned her Bachelor of Science in Nursing (BSN). Upon moving to Chicago, IL, Alissa began working as a critical care nurse in the Medical Intensive Care Unit at Northwestern Memorial Hospital where she gained a great deal of experience caring for patients with a wide variety of acute and chronic medical conditions. Alissa joined Midwest Orthopaedics at Rush as a nurse with Dr. Gerlinger in April of 2016. Prior to joining Dr. Gerlinger at Midwest Orthopaedics, she worked as a staff nurse on the inpatient orthopaedic unit at Rush University Medical Center, where she began her career in the orthopaedic specality.
She has served on many committees as a staff nurse to improve patient care and outcomes, and as a preceptor to new nurse graduates. Throughout her career, she has been recognized by her peers and hospital administrators for her excellent patient care and attention to detail. Alissa has a strong passion for nursing and advancing her education and knowledge in the field. In 2018, she graduated from Rush University with her Doctor of Nursing Practice (DNP) as an Adult-Gerontology Acute Care Nurse Practitioner. Alissa loves her position as an orthopedic clinician and truly enjoys establishing and building relationships with her patients during their joint replacement journey. In collaboration with the entire team, Alissa works to individualize patient care plans to meet the needs of each patient.
In her spare time, Alissa enjoys traveling, playing tennis, and spending time with family and friends. She also loves watching sports, especially college football - Go Gamecocks!
Physician: Tad Gerlinger, MD
Clinical Responsibilities:
Same Day Surgery Discharge Coordinator
Gold Coast Surgicenter Nurse Liaison
Rush International Patient Nurse Liaison
Surgical planning and scheduling
Pre-operative/Post-operative patient teaching
Patient support and post-operative assistance
Medication management per physician protocol
Phone triage input and output
Patient forms and disability paperwork
In-house patient rounding
Education:
University of South Carolina, Columbia SC - Bachelor of Science in Nursing (BSN), 2012
Rush University, Chicago, IL - Doctor of Nursing Practice (DNP-AGACNP), 2018
Professional Certifications and Licenses:
Advanced Practice Nurse, State of Illinois
Registered Nurse, State of Illinois
Certified Medical-Surgical Registered Nurse
Professional Memberships:
National Association of Orthopaedic Nurses (NAON)