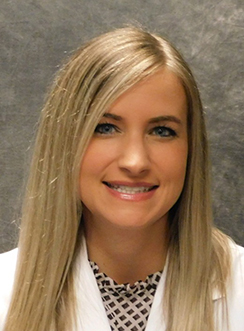 Kate Braunsky, RN, BSN, ONC
Kate obtained her Bachelor's Degree in Nursing (BSN) from Western Michigan University, Bronson School of Nursing in 2008. Kate started her career at Rush University Medical Center in 2008 as a clinical nurse on the orthopaedic floor. Following her time at Rush, she worked in both inpatient and outpatient settings as an orthopaedic nurse in Chicago and St. Louis, MO. She ultimately began working for Dr. Tad Gerlinger in 2014 as one of his Nurse Clinicians. In this role, Kate provides peri-operative education to patients and their families in order to maximize surgical outcomes and decrease postoperative complications. In 2015, Kate took on the role as Dr. Gerlinger's Research Coordinator, managing multiple studies designed to help continually improve the total joint replacement experience. Kate is a member of the National Association of Orthopaedic Nurses, serving as the Medical District Chapter President-Elect from 2010-2011. She also obtained her Orthopaedic Nursing Certification (ONC) in 2010.
In her spare time, Kate enjoys going on hikes with her two dogs, cheering on her beloved Green Bay Packers (sorry Bears fans), and spending time with her family and friends.
Clinical Responsibilities:
Surgical scheduling
Medication management per physician protocol
Pre-op/post-op teaching
Provides patient support and postoperative assistance
Provides phone triage input and output
Completes patient documentation for temporary disability and family medical leave
In-house patient rounds
Research Coordinator
Education:
Western Mighican University, Kalamazoo, MI - Bachelor's of Science in Nursing (BSN) 2008
Professional Certifications and Licenses
Registered Nurse, State of Illinois
Orthopedic Nurse Certification (ONC)
Professional Memberships:
National Association of Orthopedic Nurses (NAON)