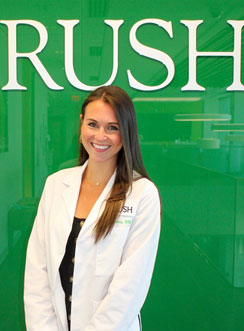 Kelly Murray, RN
A lifelong Chicagoan, Kelly earned her Bachelor's Degree in Nursing from Loyola University Chicago. She started her career in the operating room at Northwestern Memorial Hospital for three years. She was an integral part of the spine team working in both circulating and scrub nurse roles. Kelly moved into the operating room at Lurie Children's Hospital on the orthopedic team and, most recently, as charge nurse of the surgical department. In her time at Lurie's, she was involved in the first historical fetal surgery done at Lurie's. Kelly involved herself in the development of programs and policies to improve the outcomes of patients she took care of everyday. Taking on additional responsibilities, Kelly returned to Northwestern monthly to instruct medical residents and students proper surgical flow by OR simulations and group led discussion. This educational platform helped lead Kelly to her position at Midwest Orthopaedics. Kelly is known for her bubbly spirit and providing constant support of her patients and colleagues. She strives for excellence in patient care and follows the mission of "treating the human spirit" as taught at Loyola.

Kelly joined Dr. Gerlinger's team in 2019 as one of his Nurse clinicians at Midwest Orthopaedics at Rush. She is motivated to encourage her patients through their surgical journey by educating, supporting, and using her knowledge to identify all the details to provide a safe and successful surgery. Through care and respect, Kelly demonstrates high quality patient care.

In her spare time, Kelly loves to attend yoga classes, visit family and friends in Florida, and dance along to a great new tune! Fun fact, Kelly danced for over 22 years of her life and competed at the UDA National Dance Team Championships while at Loyola!